How I Make My Graphics
...An Illustrated Example (from start to finish)
Ever wonder how I make those neato pictures and backgrounds I have all over my webpages? Each one really has a different history to it, but here is an example of one I did recently which is typical of a what happens to a title graphic, with probably more detail than you ever cared to know. Don't worry if you dont' understand every step of what i did. I only incuded some of those way technical sounding details in case someone out there is wondering "how do you do that; I wanna do that on my next picture". Enjoy :)

I started out having chosen this background for the page, and i decided i wanted the title graphic to match in color, and say "Photo Gallery Number Two"
:


I started with a 500X200 pixel black screen in Photopaint.
Then I added some text, and sized and placed it appropriately, choosing a color similar to the stars in my background. (This font is called "FZ Hand 6")

The first thing i tried was making a mask out of the text and blurring it, and adding some color to the affected area. I liked the effect, but it was way not subtle enough.
I also gave the picture a background that matched my page background, so it wouldn't stick out so much.

I played around with trying to make that effect more subtle, but didn't get anything i really liked.
Then i decided to try a "brush stroke" of the same color in the background, only with more transparency.




I decided I liked that, but something was still missing.

So I took my blue shadow, and turned it into a subtler purple shaddow and put it below the "brush stroke" layer, andding a subtle but noticeable difference.

The only step left was converting it to gif, which allowed me to create more transparent areas so the image would blend in nicer.

The conversion to 256 color palette changed the text color to be a little nicer as an added bonus.




Here's a picture of all the layers that went into making the finished graphic: Each layer can have transparency and blending effects in addition to easy selection of objects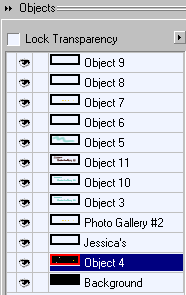 ---
Jessica's Homepage -> Art -> Photoshop