Chapati (Uganda)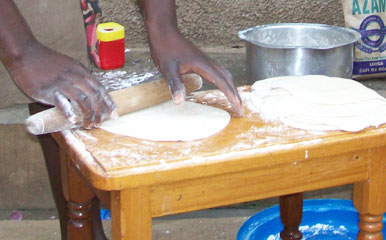 Chapati is a local favorite I quickly grew to love Uganda. It is a flat, unleavened bread with some resemblance to a pita or tortilla. It can be served cut up into quarters and served as a side dish (particularly with any sort of curry/dipping sauce) or rolled up and filled with vegetables into a "Rolex". Chapati sometimes has variants on its spelling such as Chappati, and can be refered to in non-singular quantities either in the singular form (Chipati) or plural for (Chipatis)
Ingredients:
2 cups all-purpose flour (sifted)
1 teaspoon salt
warm water
cooking oil
(optional) finely chopped onions (use the 1/2" purple kind)
(optional) finely chopped garlic
Directions:
Allow ingredients to warm to room temperature if they have been refrigerated.
Mix flour, onion, and salt in a bowl.
Slowly, mix in enough water to make a thick dough.
Kneed dough for a few minutes adding a couple spoonfuls of dry flour.
Cover bowl of dough with a clean cloth and let sit for about a half-hour.
Pre-heat (medium high or high) and lightly grease a skillet or fry pan.
Divided the dough into tangerine sized balls.
Using a rolling pin, on a floured board flatten the balls into six-inch circles.
Lightly flour the chipatis before stacking while rolliing additional chipates.
Fry until each side has golden-brown spots, flipping once.
Cover the cooked chapais until served. To keep warm, wrap the stack of finished chipatis in a heavy plastic grocery bag or place in oven on lowest setting.
Slice into quarters if desired.
---
Jessica's Homepage -> Recipes -> This Recipe