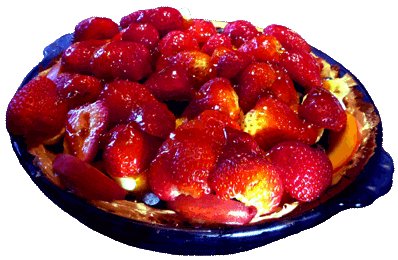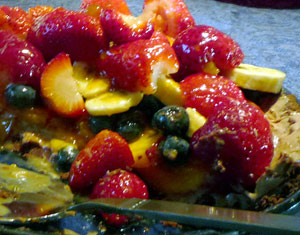 Makes Approx. 8 servings

Prep Time: 20 min.
Start to Finish: 2 Hrs.
Chocolate Fruit Torte Dessert
My Review:
This recipe is really yummy, quality worthy of a birthday dessert. It is a seasonal (summer) dish as it requires a large assortment of fresh fruit and is a chilled rather than hot. My sister picked this one out for her birthday dinner one year, and I made sure to hang onto the recipe after!
Ingredients:
Chocolate Crumb Crust:
1-1/2 cups Nilla wafer crumbs (about 45 wafers, crushed)
1/3 cup Hershey's Cocoa
1/3 cup powdered sugar
1/2 cup (1 stick) butter or margarine, melted
Filling:
1 package (8 oz.) cream cheese, softened
1/2 cup sugar
3 tablespoons Hershey's Cocoa
1 tablespoon milk
1 teaspoon vanilla extract
Topping:
3 peaches or nectarines, peeled and sliced
2 cups strawberries, halved
1 cup blueberries
1 medium banana, sliced
1/4 cup peach or apricot preserve
Instructions:
Prepare Chocolate Crumb Crust:
Lightly butter 12-inch pizza pan
Note: A 9" pyrex pie pan will will work, but is not as easy to cut and serve from
In medium bowl, stir together crumbs, cocoa and powdered sugar.
Stir in butter.
Press mixture onto bottom and side of prepared pan.
Chill thoroughly.
Prepare Filling:
In medium bowl, beat cream cheese and sugar.
Add cocoa, milk and vanilla.
Beat until smooth and well blended.
Spread mixture over crust.
Refrigerate until cream cheese mixture is chilled.
Prepare Topping:
Arrange fruit on cream cheese mixture, working from outside toward center until surface is covered.
Heat preserves until thin; cool slightly.
Spoon preserves over fruit.
Chill.
Serve:
Cut fruit torte into wedges.
---
Jessica's Homepage -> Recipes -> Chocolate Fruit Torte