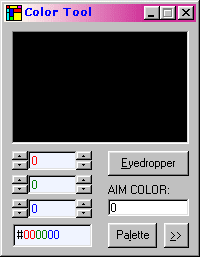 Summary: Color Tool is an eyedropper tool, to pick a color from a pixel on the screen. The color can also be changed by entering a rgb value, or html hexedecimal value. The html value is color coded to make it easy to remember which part is for what color. You can also set the windows desktop background color. This can be used to pick a color from a background image to make the desktop color blend in. (Requires Visual Basic 6 runtimes)
Screen Capture 1 and Screen Capture 2.
Operating Systems: this program is Windows 9x-Vista compatible. This means it should run under most versions of Windows except for Windows 3.1.
Download Now (952 kb) - Now includes source code!
Note: this program requires visual basic 6.0 runtimes. Most likely you already have the runtimes you need to run this program. If you get an error message like "MSVBVM60.DLL not found" this means you do not have all the neccesary runtimes and you should visit this page to download the helper files for visual basic programs.

---
Copyright (c) 2002 Sunbear Software. All rights reserved.